A digital reconstruction revives a medieval seat of power.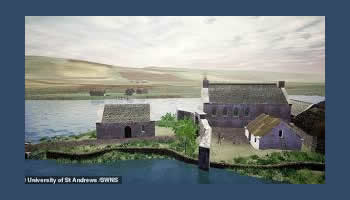 Some historical sites have been fully restored and renovated, while others are little more than foundations, sparks for the imagination. But it can be a challenge to picture a grand structure when all you see is a somewhat organized pile of stones that used to be a home or a shop or a castle. Now visitors to Finlaggan, the former seat of power for the Lords of the Isles, rulers of Hebrides and parts of mainland Scotland from the 13th to 15th centuries, will have more to see. Modern tech has given the historical imagination a boost.
Today the site of Finlaggan includes a few standing walls, and a scatter of what were once building materials. Archaeological discoveries at the site made by the Finlaggan Archaeological Project have provided enough information for the University of St. Andrews's Open Virtual Worlds Team and Smarthistory to digitally recreate medieval Finlaggan. Visitors can now enter the virtual model and travel through the great hall, where the council held inaugurations and feasts, and other structures. Can't make it to the islands of Eilean Mor and Eilean na Comhairle, or the surrounding loch, where the Lords of the Isles once ruled? No worries, the entire experience can be viewed through a virtual reality app or online videos.